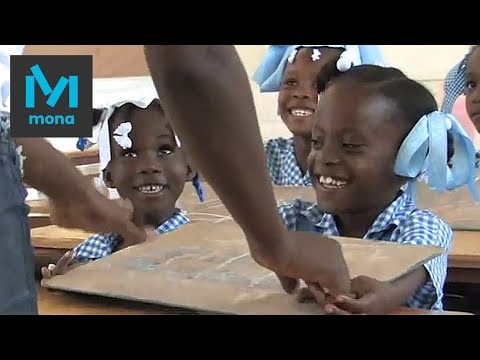 About the project
After the devastating earthquake of 2010 where 75% of schools in Haiti were destroyed, this small community school quadrupled in size, as children from other schools came, seeking a place to get an education. The teachers and administrators are locals with absolute commitment to the education of the children, earning only $50/month. Parents are also committed, and even though living in abject poverty, they send their children to learn how to build a better life for themselves, sometimes even without shoes.
The school has just two simple concrete structures and a temporary one constructed of woven palm leaves, and yet provides K-6 education for 232 students. It's located in Guerot, a farming community where most residents work in the fields. Incomes fluctuate based on crop yields, so most parents struggle to pay the very small fee the school charges, about $1 a month. Some don't pay at all. Georges Marcellus allows students to continue coming to school even if their families fail to pay the fees.
How we help
Georges Marcellus students are some of the poorest in Haiti and often have to face great challenges. The school prepares and encourages them to strive to better themselves and serve their community.
Enock is a former student who is virtually blind. He Graduated from Georges Marcellus after completing 6th grade, learned Braille, and is now doing well in his new school. Another graduate, Albert, is unable to hear or speak. In spite of this, he went on to reach grade 12 and plans to learn how to lay ceramic tile.
Heart and Determination
With a steel determination, the teachers and administrators of this school educate Haiti's most marginalized children. When promised funding from the government did not come for many months, the teachers agreed to reduce their individual salaries by 20% so that everyone could be paid.
Moral Education
The children from this rural region have experienced many difficulties and challenges in their lives. In addition to academics, the children enrolled in the moral and character development education program to learn the values that are foundational to their success. Students are taught about values such as honesty and trust, and how to work together and care for each other, how to solve problems through consultation vs. violence, and most importantly, how to give back and serve the needs of their communities.
3-Year Plan
The Haitian government has announced that in the near future, schools must provide classes through 9th grade or they will lose their authorization to operate. Georges Marcellus is already working on a 3-year plan to improve the facilities and academic instruction, upgrade teacher skills and develop the means to add middle school classes.